About Us
We can accurately be a called a car removal business, an auto recycler, or an auto salvage company. We pay top dollar for junk cars, pick them up without charge from homes and businesses, and recycle them in an environmentally responsible way.

We can pay top dollar for several reasons. First, we look at each junk car individually, and work with all facets of the business. We'll strip all of the reusable spare parts on some cars, fix and sell others, or when they're truly done, simply sell them to a steel recycler once we have removed all the dangerous chemicals. Unlike most of our competition, we're not tied to any method, so we can get top dollar for the junk cars we buy.

Second, we can offer more than local car removal companies because we have national reach. For example, we know that when the market for spare Corolla parts in Illinois is weak, that we can sell them for top dollar in New York. This national view allows us to get the most for the junk cars we take in. Thus, we're able to pay you more.

Third, we have lower marketing expenses because we get return business and because we're one of the most environmentally responsible car removal businesses in the country. We truly pride ourselves on customer service, and over the years have earned repeat and referral business. True auto recyclers are rare, and the fact that we're ahead of the curve has also helped us earn many Green customers.

We've been in the auto salvage business since the 1980's and have recycled hundreds of thousands of junk cars over the years. We've found that our business has flourished when we consistently delivered great customer service, made the highest bids for junk cars, and maintained a Green approach to all of our recycling efforts. We're confident that our continued commitment to these principles will keep us growing in the decades to come.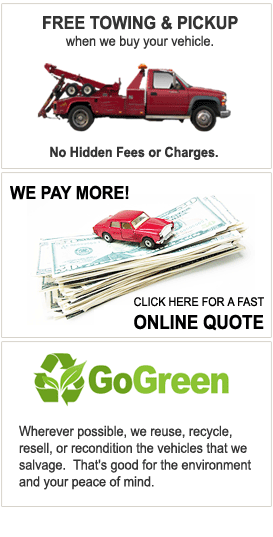 Cash for Cars by State
Alaska (AK), Alabama (AL), Arkansas (AR), Arizona (AZ), California (CA), Colorado (CO), Connecticut (CT), District of Columbia (DC), Delaware (DE), Florida (FL), Georgia (GA), Hawaii (HI), Iowa (IA), Idaho (ID), Illinois (IL), Indiana (IN), Kansas (KS), Kentucky (KY), Louisiana (LA), Massachusetts (MA), Maryland (MD), Maine (ME), Michigan (MI), Minnesota (MN), Missouri (MO), Mississippi (MS), Montana (MT), North Carolina (NC), North Dakota (ND), Nebraska (NE), New Hampshire (NH), New Jersey (NJ), New Mexico (NM), Nevada (NV), New York (NY), Ohio (OH), Oklahoma (OK), Oregon (OR), Pennsylvania (PA), Rhode Island (RI), South Carolina (SC), South Dakota (SD), Tennessee (TN), Texas (TX), Utah (UT), Virginia (VA), Vermont (VT), Washington (WA), Wisconsin (WI), West Virginia (WV), Wyoming (WY)