FAQ
1) How do I sell my junk car to you?
We have worked hard to make it as simple as possible. Simply call us and one of our knowledgeable call center operators will ask you a short list of questions about your junk car. Based on that information, we'll be able to make a cash offer within minutes. If you accept the offer, we'll schedule a car removal based on your busy life. The tow truck driver will arrive at the time you chose with your payment, and leave with the car after you sign over the registration. It's that simple.

2) How much will my junk car be worth?
The value of a junk car varies greatly based on age, condition, and the demand for the spare parts. Generally speaking, most older cars have enough value in scrap steel for a car removal business to break even on their towing and overhead costs to remove it for ''free'' (i.e. a few hundred dollars).

On the other hand, if your junk car is a newer model totaled in an accident, the undamaged spare parts may be worth much more. We even find that some people consider their car to be junk though it is still in operational condition. Those cars can obviously be worth the most, and we always pay top dollar, whether it's a derelict 1986 Lincoln or a slightly wounded 2003 Lexus. The value of your junk car simply depends on too many factors to explain without talking to you.

3) What will happen to my junk car after I sell it?

The junk cars that we purchase are either fixed up and sold, or broken down for spare parts and recyclable materials. We believe that the ultimate Green principle is to reuse things whenever possible. When a junk car is too far gone, we try to salvage as many reusable parts as possible (transmissions, seats, windshields, etc.), and sell those to spare parts dealers. We'll then remove all the heavy metals and dangerous chemicals and properly dispose of them. We'll then recycle the steel, and make the smallest possible contribution to our growing landfills.

4) Will I get a tax deduction if I sell my car to you?
No. We are not a charity car donation organization. If you're looking to give the most to a charity, however, we believe that the cash we pay you for your junk car will be worth far more to your charity than your junk car donation will generate for them.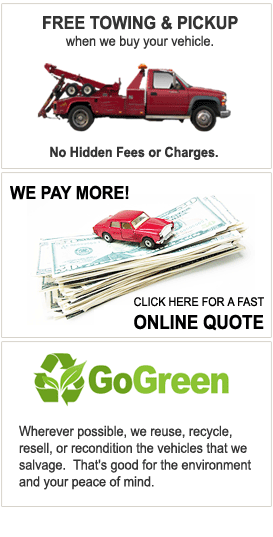 Cash for Cars by State
Alaska (AK), Alabama (AL), Arkansas (AR), Arizona (AZ), California (CA), Colorado (CO), Connecticut (CT), District of Columbia (DC), Delaware (DE), Florida (FL), Georgia (GA), Hawaii (HI), Iowa (IA), Idaho (ID), Illinois (IL), Indiana (IN), Kansas (KS), Kentucky (KY), Louisiana (LA), Massachusetts (MA), Maryland (MD), Maine (ME), Michigan (MI), Minnesota (MN), Missouri (MO), Mississippi (MS), Montana (MT), North Carolina (NC), North Dakota (ND), Nebraska (NE), New Hampshire (NH), New Jersey (NJ), New Mexico (NM), Nevada (NV), New York (NY), Ohio (OH), Oklahoma (OK), Oregon (OR), Pennsylvania (PA), Rhode Island (RI), South Carolina (SC), South Dakota (SD), Tennessee (TN), Texas (TX), Utah (UT), Virginia (VA), Vermont (VT), Washington (WA), Wisconsin (WI), West Virginia (WV), Wyoming (WY)