Our Competitors
Just a few years ago, getting rid of junk cars was something that people dreaded. They leaked oil on the driveway, angered wives and neighbors, and more often than not, people had to pay a car removal company to tow their junk car away.

Today, the introduction of the Internet and the appearance of charitable organizations have changed the junk car market. In Chicago alone there are many dozens of businesses and organizations competing for your junk car.

Our competitors can generally be placed in one of four categories; auto salvage yards, car removal businesses, auto recyclers, and car donation charities.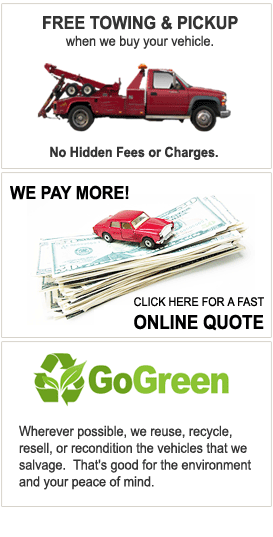 Cash for Cars by State
Alaska (AK), Alabama (AL), Arkansas (AR), Arizona (AZ), California (CA), Colorado (CO), Connecticut (CT), District of Columbia (DC), Delaware (DE), Florida (FL), Georgia (GA), Hawaii (HI), Iowa (IA), Idaho (ID), Illinois (IL), Indiana (IN), Kansas (KS), Kentucky (KY), Louisiana (LA), Massachusetts (MA), Maryland (MD), Maine (ME), Michigan (MI), Minnesota (MN), Missouri (MO), Mississippi (MS), Montana (MT), North Carolina (NC), North Dakota (ND), Nebraska (NE), New Hampshire (NH), New Jersey (NJ), New Mexico (NM), Nevada (NV), New York (NY), Ohio (OH), Oklahoma (OK), Oregon (OR), Pennsylvania (PA), Rhode Island (RI), South Carolina (SC), South Dakota (SD), Tennessee (TN), Texas (TX), Utah (UT), Virginia (VA), Vermont (VT), Washington (WA), Wisconsin (WI), West Virginia (WV), Wyoming (WY)