CAR DONATION CHARITIES
Car Donation Charities are thriving because of Americans' generosity. Car donations now account for up to 20% of the junk cars that leave America's roads every year.
Most charitable car donations result in a $500 federal tax deduction for the giver, which amounts to a few hundred dollars in tax savings. The vast majority of charities contract with local car removal businesses, and receive between $100 and $300 for each car their charitable marketing efforts produce.

If you're worried that your donated car is impacting the environment, you should ask questions about what will happen to your junk car. Given the fact that the traditional auto salvage businesses are handling the back-end of many car donation charities, there is reason to be concerned.

There are a small handful of car donation charities that do more with the cars they receive. Local churches fix up donated cars for families with transportation challenges. The national Lung Association runs it own auto removal operation, meaning that they're most likely to earn more from your donation.

Do some online research on the Chicago and Illinois charities that accept auto donations. Don't be afraid to ask questions about how your car will help their charity and/or impact the environment.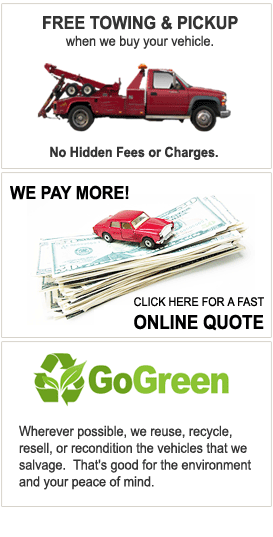 Cash for Cars by State
Alaska (AK), Alabama (AL), Arkansas (AR), Arizona (AZ), California (CA), Colorado (CO), Connecticut (CT), District of Columbia (DC), Delaware (DE), Florida (FL), Georgia (GA), Hawaii (HI), Iowa (IA), Idaho (ID), Illinois (IL), Indiana (IN), Kansas (KS), Kentucky (KY), Louisiana (LA), Massachusetts (MA), Maryland (MD), Maine (ME), Michigan (MI), Minnesota (MN), Missouri (MO), Mississippi (MS), Montana (MT), North Carolina (NC), North Dakota (ND), Nebraska (NE), New Hampshire (NH), New Jersey (NJ), New Mexico (NM), Nevada (NV), New York (NY), Ohio (OH), Oklahoma (OK), Oregon (OR), Pennsylvania (PA), Rhode Island (RI), South Carolina (SC), South Dakota (SD), Tennessee (TN), Texas (TX), Utah (UT), Virginia (VA), Vermont (VT), Washington (WA), Wisconsin (WI), West Virginia (WV), Wyoming (WY)